National Fuel Gas Distribution Corporation (National Fuel or the Company) has filed a request with the Pennsylvania Public Utility Commission (PUC) to provide immediate and recurring savings to customers through a combination of a one-time bill credit and ongoing rate reductions. If approved, all customers, including residential and local businesses, would receive a one-time bill credit and a reduction in monthly bills. The ongoing savings on monthly bills would include a reduction in base delivery rates and a temporary refund rate that would be effective for five years.
The proposed bill credits and the combined average annual savings from the rate reductions for residential and commercial customers are as follows:
One-time Bill Credit

(Current Active Customers)

Rate Reductions

(Average Annual Savings)

Residential
$100
$53
Commercial
$250
$106
Industrial customers also are eligible for a one-time bill credit and rate reductions. The Company is requesting that the credits be applied to active customer accounts and the base rate reduction and refund rate begin on Oct. 1, 2021.
National Fuel determined that it is no longer necessary to collect amounts from customers that were authorized by the PUC to cover future healthcare benefits for union and supervisory employees upon retirement. The Company's projected future obligation for these other post-employment benefits (OPEBs) can be met with existing funds and certain amounts previously collected can be returned to customers. Although these amounts would normally be flowed back to customers as part of a future rate proceeding, the Company is seeking approval from the PUC to do so now to deliver savings for all customers in advance of the next winter heating season and provide relief for the families and local businesses that have been negatively impacted by the pandemic.
National Fuel has not sought a delivery rate increase in Pennsylvania in more than 14 years. Since the time of its last base rate proceeding in 2006, the average residential customer bill has decreased by approximately 50% as a result of diligent cost control by the Company and access to affordable natural gas supplies. Residential customer bills have declined from an all-time high during 2008-2009, when annual bills averaged $1,618, to an average annual residential bill of $859 during 2020-2021. An analysis of data recently published by the U.S. Energy Information Administration found that National Fuel had the lowest residential gas rates amongst gas utilities in Pennsylvania and ranked second lowest in the northeast United States.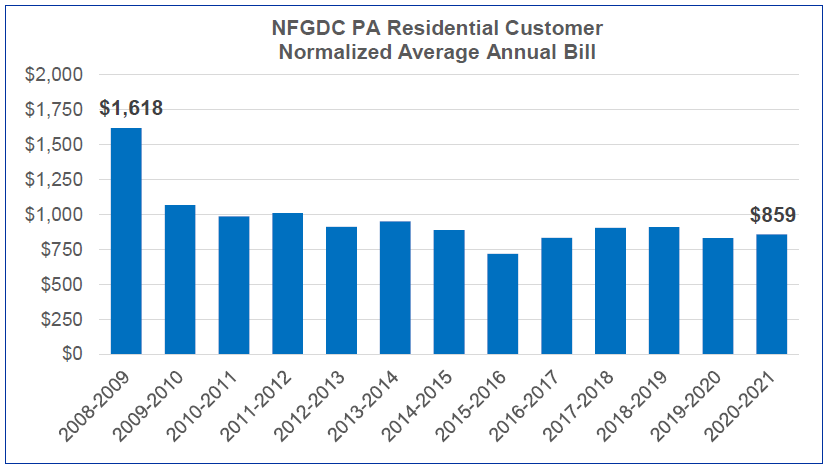 National Fuel's proposal is subject to change based on approval by the PUC. Pennsylvania customers will receive a Notice of Proposed Bill Credit and Delivery Rate Decrease that details the request and offers instructions for obtaining specific customer information and for participating in the process to change rates.
Customers who have had their gas service disconnected are encouraged to contact National Fuel at 1-800-365-3234 to discuss eligibility for the credit and other payment assistance programs available.